A Message from Our Executive Director
Summer has come and (almost) gone and Fall is upon us. For many that means embarking on the most unusual school year as our children learn from home, virtually. While this presents numerous hurdles for us all, families of children with medical complexity are faced yet again with extra challenges.
You'll read in the insightful article below about some of these challenges, as well tips and suggestions for parents to navigate this unprecedented time. We thank Alma Morgan for her expert contribution and important advice. Recently I've found myself telling families, "While we may not be together, you are not alone."
Thank you,
Stephanie Becker
Cassius
It's no accident that four-year-old Cassius was named after Muhammad Ali, considered one of the greatest boxers of all time and a man who stood up for his convictions and made a positive difference in the world. "Our Cassius was a miracle child," his mom Courtney explains. "He is so tenacious."Cash was born at 23 weeks and 6 days. Referred to as a "micro preemie," he was only 1 ½ pounds at birth. He spent the first 169 days of his life in the NICU. After finally being able to come home, his family took a deep sigh of relief, hoping that his complex medical journey would be behind him.
Instead, his mom soon noticed that Cash would stop breathing without warning. After a number of serious medical events, Cash was finally sent to VCU via ambulance for emergency surgery. Courtney credits a VCU neurologist for listening to her and taking her concerns seriously. Cash was diagnosed with subglottic cysts and only a small space for breathing. 
Although he experienced immediate relief after his surgery, he was found to have previously suffered oxygen loss and brain damage due to his medical condition.
Cash has cerebral palsy with dystonia. Due to his secondary brain injury, he is currently unable to walk. He is mostly non-verbal, but says a few words. In spite of his many medical challenges, "Cash is the sweetest spirit," Courtney says. "Everyone who meets him falls in love with him."
Always laughing and happy, Cash enjoys being held and snuggled. "He almost never cries," shares his mom, "He's very affectionate."
Likes – Cash loves all things Mickey Mouse. He loves watching Mickey Mouse Clubhouse and his favorite episode is the Super Hero one. His mom says, "If he's awake, Mickey Mouse is on!"
Dislikes – Since Cash doesn't like things going in his mouth, toothbrushing is one of his least favorite activities.
Hospitalizations – He has had multiple hospitalizations. During his first year out of the NICU, Cash had at least 7-10 hospitalizations.
Therapies Received – Occupational Therapy, Physical Therapy, Speech Therapy, Feeding Therapy, and Vision Therapy
Clinics Attended – Neurology, Pulmonary, Ear Nose & Throat, and more
Courtney credits Better2getherRVA for helping her adjust and cope with the many challenges their family has faced. "We really didn't have anybody until Better2gether," she explains. "I was so overwhelmed during our many clinic and hospital visits, and the BetterBags seemed to have just what we needed."
In addition, Courtney attends Moments Support Group where she's learned a lot about important healthcare topics and has made meaningful connections with other families who are on similar journeys. She's even learned helpful IEP information that's relevant for her 13-year-old son, Maxwell.
Cash also enjoys participating in Music Therapy through Better2gether.
"Before Cash was born, I didn't even know there was such a thing as a NICU. I didn't know so many things," explains Courtney. "I don't think anyone understands what it's like to have a child with complex medical challenges except for people who've been through it or are going through it. Having Better2gether has been my saving grace. I cannot imagine where we would be without the resources that I've learned about through them."
Courtney is grateful for the medical team that is working with Cash. "His daily physical therapy sessions are going great," she shares. "Cash has a resilience that's inspiring. I get my strength from him."
In honor of this month's Champion, please consider making a gift today to help children like Cassius here in Richmond.
Would your company or organization be our next Champion of the Month Sponsor? Please contact Stephanie Becker at Stephanie@better2getherrva.org for exciting details on how we can partner on this opportunity.
With the new school year just around the corner, many parents have more questions than answers about how to navigate the new world of virtual learning. These questions often take on additional significance for parents caring for children with special needs and chronic medical conditions.  Such questions include:
Will the 504 Plan or IEP (Individualized Education Plan) be followed in the virtual setting?  Will the accommodations and services on the educational plans be addressed in the virtual setting?
If the virtual setting has the entire class participating, how can my child's special needs be addressed, particularly if my child needs individual or small group instruction?
 As a parent, how can I help my child with instructional material when I am not a certified teacher and do not know the curriculum?
How is it possible to keep a child with attention issues, focused and on task in the virtual setting for 4-6 hours a day?
As parents, who do we contact if we feel our child is falling behind or the virtual setting is not working?
Are the specialists, such as the reading or math specialist, available to work with my child?
Alma Morgan, M.Ed., an Educational Consultant for Pediatric Hematology/Oncology at the Children's Hospital of Richmond at VCU, hears questions like these every day, and she understands parents' concerns. "Many children with chronic illness often have late effects of treatment that include: attention difficulties, short term memory challenges, and slower processing speed," she explains. "In addition, we are seeing more anxiety than ever, for children, teens and even their parents."
While Morgan is hopeful that teachers and administrators have been working hard to create an effective and meaningful curriculum for online learning, she acknowledges that there's no such thing as a one-size-fits-all program, especially for students with chronic and complex medical challenges.
Parents may feel a sense of powerlessness about this new mode of teaching and learning, and wonder whether it will work for their child. However, there are things they can do to help support their child's unique needs:
Keep a detailed log of how much instructional time your child is receiving. Morgan advises, "Make notes about what's working – and what isn't."
Communicate. "Parents are encouraged to communicate on a routine basis with their child's teachers and school staff," Morgan says. "Right now, we're just speculating what will work. That's why parent feedback is so important."
Be vocal. If parents feel like their child's learning needs are not being met or their child is falling behind academically, they need to request a meeting with the school based team to discuss these concerns.  A comprehensive evaluation may be needed to address specific areas of concern.
Be creative and flexible. "As parents and teachers work together, it may be helpful to introduce creative ways in multiple modalities to demonstrate mastery," Morgan explains. "Each child has a unique learning style. Teachers need to come up with creative ways to show that learning has been achieved." For example, your child might learn best by listening to a book on tape or acting out a story. The child might show comprehension of a book or story through a visual poster board project or a song rather than writing it in a standard book report form. Since students won't be receiving the same access to specials like art, physical education and music, it can be helpful to roll these experiences into the curriculum of the core subjects. "This is a time unlike ever before," Morgan says. "We need to dig deep, be creative, and do things differently."
Request a modified workload, if indicated. "If parents are feeling like their child is overwhelmed, they can ask for a modified workload emphasizing quality over quantity," says Morgan. "For example, can they show mastery by doing five math problems instead of ten?"
Pursue more specialized learning opportunities. If a child continues to struggle academically in the large group virtual learning format, parents can request individual instruction or small group support. "Talk with the teacher about this or request a meeting with the school-based team," Morgan advises.
Seek additional support. If parents notice changes in their child's mood or behavior, or have educational concerns, they are encouraged to seek support from their pediatrician and/or mental health professional.  If an educational consultation is needed, an appointment can be scheduled with Alma Morgan at Summit Emotional Health, (804) 562-6557.
"Parents are going to have to be proactive and work closely with the teachers and school personnel to see that their child's unique needs will be met in this new instructional setting," says Morgan. "Now, more than ever, parents need to be actively involved."
Get Involved!
Our goal is to maintain various services and support opportunities to our families through the pandemic, but we need y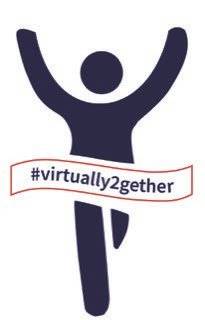 our help!
The 2nd Annual RVA Cares 5k on Saturday, September 19th is our primary fundraiser of the year, which allows us to offer gift cards, music therapy and key resource coordination to our families. This year's event is virtual which means that you can be run, walk or stroll from any location you choose – on the road, on the treadmill, at the beach, the possibilities are endless.  You get to do your own race, at your own pace, and time it yourself.
It's not too late to form a team and rally your neighbors and friends. Your $25 registration fee will help Better2gether continue its mission to support families of children with medically complex illnesses in RVA. Through this event we remember that while we are not together, we are never alone.Register Now
WAM! Annual Charity Golf Classic
presented by Call Federal Credit Union benefitting Better2gether
We are excited to once again partner with the WAM! Annual Charity Golf Classic on October 5th for a fun day of golfing for a great cause. Held at Stonehenge Country Club, golfers enjoy 18 beautiful holes of golf along with:
lunch from Panera
complimentary beverages on the course
Outback Steakhouse dinner
Access to incredible raffle prizes.
We have just two sponsorship/team spots left for this not-to-miss event! Click on the link below if you're company or organization would like to join this amazing event and help support Better2gether.
https://charityauction.bid/WAMcharitygolfclassic
*We are still looking for raffle prizes. If your company or organization would like to donate a gift certificate please contact Stephanie Becker at stephanie@better2getherrva.org
We are grateful to Susan Carson, along with her granddaughter, Lillyan, who generously donated a variety of toys and made 110 protective masks along with 25 inspirational cards for our families.
Thanks to the tremendous support of our Richmond community, we held our fourth Family Drive Event on July 31.  Twenty-three of our families received a variety of summertime toys, protective masks, as well as fresh produce from Seasonal Roots.  We would also like to express our appreciation to our volunteers, Carolyn Foster, Kelly Lester, Kelly Kornman, Lauren Kornman and Stephanie Smith for their participation and support of our B2G families.
There are thousands of families in RVA caring for a child with a medically complex illness who have no non-medical support. Please consider donating today so Better2gether can meet the needs of these deserving families and children.
_____________________________________
About Better2gether RVA
While support services abound in Richmond for families of children fighting well-known illnesses like cancer and juvenile diabetes, currently nothing exists for families of children battling more rare and complex illnesses.  Better2gether RVA, is dedicated to the belief that all families of children battling illness — regardless of their diagnosis — deserve access to resources and support services. Since 2017, the organization has provided mentorship, counsel and recreational programming for families of children diagnosed with complex medical illnesses, plus valuable resources for treatment and its associated costs. Learn more at www.better2getherrva.org.