A MESSAGE FROM OUR EXECUTIVE DIRECTOR
Happy Fall, Y'all! It may not seem like fall yet, but with excitement building around the new Better2gether Halloween Hustle 5K presented by Commonwealth Law Group- Ghostbustin' Style on October 29, we have pumpkins, ghosts and slime on the brain!
Our 5K sponsors are the best and we can't wait to showcase them on social media starting this week, so if you haven't checked out our Facebook or Instagram pages, head on over to see the incredible companies that are supporting our B2g kids and families.
We are also grateful for our dedicated community partners who have stepped up this month to help with our Summer Bash Family Picnic, Stock the Snack Pantry drive for the Complex Care Clinic and the critical support being offered by Gayton Church.
As we have grown 19% in 2022, our donors are most appreciated and valued. We thank you for your continued generosity that allows us to meet the growing needs of our medically complex children in RVA.
Stephanie Becker
Executive Director, Co-Founder
________________________________________________________________________________________________
Early Bird Pricing ends TODAY!
Strap on your proton pack and charge your ghost trapper, it's time to register for the Better2gether Halloween Hustle 5K | Ghostbustin' Style presented by Commonwealth Law Group!
We hope you'll join us for a scary good time running, walking or strolling through the course at a new location, Performance Food Group at West Creek Parkway. Not to mention we have a spooktacular Post-Race After Party. Don't miss out:
Interested in sponsoring the race? Check out our sponsorship benefits and opportunities by clicking below or email Britt Nelson, Event & Marketing Coordinator.
VIEW SPONSORSHIP OPPORTUNITIES
________________________________________________________________________________________________
Programs
Providing Practical Everyday Support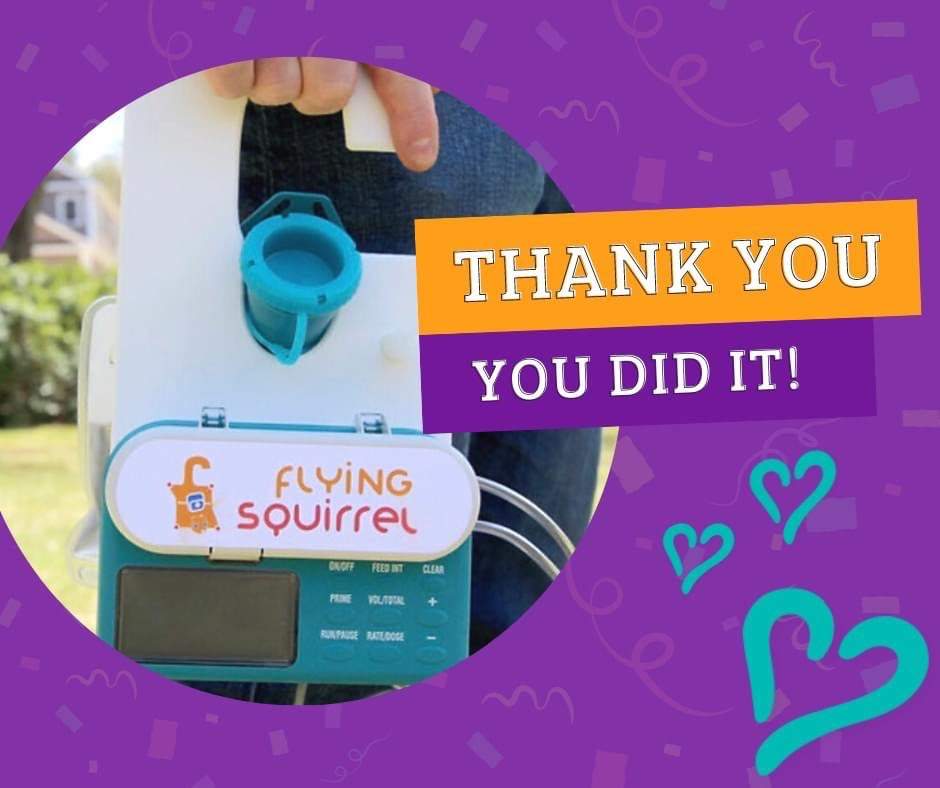 A few weeks ago we put out a SOS for support and many of you stepped up to lend a helping hand. Our resource coordinator, Carissa, had been working with families who needed assistance in purchasing supplies that would directly help them care of their child. The needs of the children were unique and unexpected, and our families didn't know where else to turn.
In less than 24 hours, $1,300 was raised to help make the journey easier for these B2g families. We're incredibly grateful for the support and have been putting the funds immediately to use as you can see here with Baby Jonathan who was in need of a feeding pump hanger.
________________________________________________________________________________________________
Volunteer Spotlight
Ut Prosim is the Virginia Tech motto. In translates to "That I may serve."
As self-proclaimed "proud Hokies," Bruce and Carolyn Miller truly embody their alma mater's motto. They, along with their two children, Brent and Elizabeth Ann (also Hokies – with Elizabeth Ann being the 7th in their extended family to attend Virginia Tech), are deeply committed to community service and making a positive difference in the lives of others.
For seven years, the Millers created and managed the Deltaville 5K & Kids Fun Run, raising over $70K for the community. Bruce's family has lived in Deltaville for many generations, and the Millers wanted to give back to the place they love.
Bruce's Deltaville family home happens to be across the street from the home of Better2gether co-founder and Executive Director, Stephanie Becker's family. Bruce has known Stephanie since she was a baby, and their parents continue to be close friends.
When Better2gether was formed, Bruce and Carolyn jumped into action by volunteering to help create and manage its first 5K event. Each year, this event has grown. And each year, Bruce and Carolyn have given their time, passion, and energy to help make it a success.
"I got involved with Better2gether to start a 5K as a fundraiser, and to create awareness of the organization, as well as to create a family friendly event," Carolyn says. "I have a heart for those in need, and my knowledge of how to create a successful 5K seemed like a good fit."
This year's 5K event will be the biggest one yet. The Better2gether Halloween Hustle 5K and Kid's Fun Run will be held on Saturday, October 29, and the Millers will be there. They will primarily focus on all aspects of the West Creek Parkway racecourse. "Bruce and I work together to make the race an efficient, enjoyable experience for all," she shares.
In addition to their working with Better2gether, Carolyn has also been a long-time volunteer at the Gayton Baptist Church Food Pantry. "I became involved in our Church's Food Pantry, and I saw the need to help others," she explains. "From there, my volunteering just continued; and my consistent desire to help others grew."
When Carolyn reflected on the work of Better2gether and the work of her Church's Food Pantry, she soon recognized the value of them joining forces. She helped create a partnership between B2G and the Gayton Baptist Church Care Ministries, and now the Care Ministries works with Better2gether to provide families experiencing financial need with food and other essentials.
While the Millers do so much for so many, they say they're the ones who feel rewarded. "I really enjoy the relationships formed and seeing a smile on someone's face, Carolyn shares. "I always say after a Food Pantry day, 'A tired Tuesday is a good Tuesday!"
"The personal value and rewards are above none," she adds. "Volunteering provides me with a different perspective on life that I might not see otherwise. I believe this is a calling from God; and doing a little piece of His work is an honor."
The Miller family feels fortunate and blessed for the opportunity to make a difference. Carolyn shares, "We collectively are living together on this planet, and we should support each other."
________________________________________________________________________________________________
Community Partners
Little Hands
Baby Asher has some sweet wheels thanks to Little Hands Virginia! Before Asher was discharged from the Children's Hospital of Richmond at VCU, B2g Mom Kelly found out her son's stroller wouldn't provide the support he needed due to his low muscle tone. That's when B2g resource coordinator Carissa jumped into action and reached out to community partner Little Hands, a nonprofit dedicated to providing essentials and a little extra love to babies (0-3 years old) and families in need in the Greater Richmond region.
Kelly showed us how the stroller is able to carry Asher's oxygen, pulse ox, feeding bag and supplies which makes traveling easier. We're so grateful to have helpers like Little Hands as part of our B2g community!
Snack Drive Supporters
Shout-outs to our Complex Care Clinic Kids Snack Drive partners – Anthem, Ashley Foster, Colonial Crossfit,  JunkLuggers and Remix Market – who collected snacks to help make long days in clinic a little easier for our kids and  families. We delivered all the yumminess on Thursday to clinic and the team was ecstatic. Thank you for your kindness!
___________________________________________
Summer Bash Partners
We loved seeing our Better2gether kids and families during the August MOMENTS Summer Picnic hosted in partnership with Children's Hospital of Richmond at VCU. Social events like this are the perfect time to connect with other families, make new friends and to just have fun! Special thanks to Reveille United Methodist Church for hosting, Miriam from Commonwealth Music Therapy, LLC for helping the kids to make musical instruments, to Sara with Read to Them for providing story time & donating books, Angela with Molina Complete Care of Virginia for getting everyone ready with back-to-school supplies and Babb's Food Truck for a delicious meal.
________________________________________________________________________________________________
PLEASE CONSIDER DONATING TODAY!
There are thousands of families in RVA caring for a child with a medically complex illness who have no non-medical support. Please consider donating today so Better2gether RVA can meet the needs of these deserving families and children.
What Your Donation Does:
$50 – provides a Kindle Fire for distraction and entertainment during long doctor appointments
$75 – provides a gas card and meal gift card to help relieve the financial burden for families during an unexpected hospital stay
$150 – stocks a tote bag filled with books, supplies and a medical binder to equip parents with tools to care for their child
$200 – grants 4 children access to our Create2gether Art Program
$500 – helps fund MOMENTS, Richmond's only support group for parents of medically complex children
________________________________________________________________________________________________